Ensemble Gamut! will release their second album, RE, on 25 November 2022. Having won over the critics with their debut release, the ensemble now explores age-old themes in a way that makes them seem surprisingly contemporary.
The title of the album references the English prefix that can be appended to almost any activity: remaking, readjusting, reposting, retuning and reinterpreting both the past and the future. History repeats itself in all sorts of ways, and the topical themes addressed on RE include colonisation, the conquest of new territories by a superpower, Finland's geopolitical position between East and West, and wars between religions.
"We are today inundated with information, which also includes alternative truths, distorted facts. The appreciation of expertise and knowledge is at an all time low. It fills me with exasperation to see the Instagram feed of someone who has had the benefit of the Finnish education system, yet who claims that the earth is flat. Are we living in the Middle Ages?" asks the leader of the ensemble Aino Peltomaa.
The songs recall a time when no such country as Finland existed as yet. The Eastern Orthodox and the Western Catholic Church competed for influence in Finland for centuries, until they separated on the eve of the First Crusade. The songs on the album explore the earliest music preserved in Finland, literary sources from St. Henry's historia ritmica, the Piae Cantiones collection, the Brigittine Cantus Sororum chantbook, as well as ancient runosong melodies.
"On RE we wanted to explore what is true and what is fiction, what is mythology, trolling, or legend. How stories and facts are altered by the narrator's perspective. Using electronics and our own arrangements, we update one of the earliest melodies preserved in Finland, the song of St Henry and his death by the hand of the peasant Lalli. We also address the issue of a superpower's violent invasion by merging folk incantations and ecclesiastical influences into a new kind of musical entity," Peltomaa describes the new album.
Schedules and links
1st single "Veri" feat. Paleface + video by Sampsa Pirtola and Juha Hansen, 7.10.2022
https://youtu.be/mznW6JGPm64
2nd single "Puu" + video by Sampsa Pirtola, 28.10.2022
https://youtu.be/07Tc_X-oSxk
3rd single "Trina caeli hierarchia" studiolive video by Jyri Sariola, 11.11.2022
https://youtu.be/pVrkU2_69hU
4th Christmas single "Lapsed caick laolacatt" + video by Antti Vuori, 25.11.2022
https://youtu.be/FIkMuzMmAYY
RE CD release on 25.11.2022
Digital album release on 2.12.2022
Pre-save linktree: https://orcd.co/vqa6drx
A pre-download link for the RE album will be sent to media representatives on request.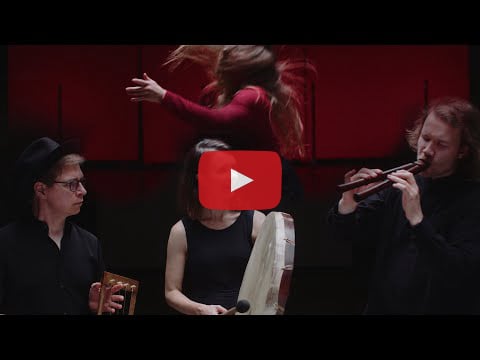 More info:
Ensemble Gamut!
Aino Peltomaa
+358407569979
aino.peltomaa@gmail.com
Eclipse Music Finland
Tapio Ylinen
+358 44 5532977
ylinen.tapio@gmail.com
Promo images:
http://ensemblegamut.com/photos/
Pictures: by Henri Melaanvuo
Youtube: https://youtu.be/NGE_W9Oy-qk
Facebook: www.facebook.com/ensemblegamut/
Instagram: www.instagram.com/ensemblegamut/
Web page: www.ensemblegamut.com
Electronic Press Kit: www.ensemblegamut.com/ep
PR:
Marjatta & Kaisa Ltd
info@maetka.fi
www.maetka.fi
Tracks
1. Sanctus Ericus / Sanctum Ericum
Missa et officium Sancti Henrici
2. Veri feat. Paleface
Trad. from Soikkola, lyrics Paleface
3. Gaude, cetus fidelium / In vernali tempore / Gaude, cetus fidelium / Runosong from Suistamo
Missa et officium Sancti Henrici / Piae Cantiones
4. Paimenen säveliä: Suru
Teppo Repo
5. Psallat scholarum concio / Neity Maria Emonen – Mariatar / Beatus vir
Piae Cantiones / Mythologia Fennica / Missa et officium Sancti Henrici
6. Luojan virsi
Trad. from Soikkola, lyrics trad./Kaarle Krohn
7. Trina caeli hierarchia
Cantus Sororum
8. Impenitens malicie
Missa et officium Sancti Henrici
9. Piispa Henrikin surmavirsi
Trad. from Hevaa (melody), lyrics Kanteletar
10. Birretum patris
Missa et officium Sancti Henrici
11. O scholares voce pares
Piae Cantiones
12. Puu
Aino Peltomaa
13. Cum lucri magnitudine / Perfecte desiderium sui / Pre clari patris sanctitas doctrinam
Missa et officium Sancti Henrici
14. Lapsed caicki laolacatt (Personent Hodie)
Piae Cantiones
Upcoming concerts
27.11. Taidekoti Kirpilä
https://taidekotikirpila.fi/
1.12. Kässän talo, Lohja
https://tapahtumat.visitlohja.fi/fi-FI/page/5d072e1a7911c40683c10bc5
2.12. St Henry's Ecumenical Art Chapel, Turku
https://www.taidekappeli.fi/
3.12. Stockholm Early Music festival, Tyska Kyrkan
https://www.semf.se/christmas-edition-2022/event/2314
Ensemble Gamut! biography
Ensemble Gamut! has created its unique sound by combining elements from medieval music and Finnish folk songs with improvisation and electronic soundscapes.
The group's name is a reference to Guido of Arezzo's concept of gamut in medieval music theory. As a term, gamut also denotes a subset of colours, in addition which it is phonetically similar to the Finnish word kamut, meaning friends or mates, and kamu, which is shorthand for kansanmusiikki, folk music.
Released in December 2020 on Eclipse Music, the ensemble's debut album UT attracted widespread interest in classical, early music as well as progressive music circles. The Finnish Early Music Association awarded the album its Achievement of the Year prize for 2020, chosen by Paleface. The album was also nominated for the Finnish Broadcasting Company Yle's 2021 Album of the Year, and it was listed among the best progressive albums of the year by The Progressive Aspect.
Ensemble Gamut! has performed extensively in clubs, museums, medieval churches and concert venues. It performed at the prestigious Via Mediaeval festival in Germany in September 2021 and had its Dutch debuts at the Ambigu concert series in 2019 and in Amsterdam in 2021. In addition to the Sastamala Gregoriana festival, Ensemble Gamut! has toured early music festivals in Finland, including BRQ Vantaa, Janakkala Baroque and early music festivals in Oulu and Imatra. It was the opening act at the JuuriJuhla-RotFest folk music festival in Espoo Cathedral in April 2021.
"Ensemble Gamut! approaches early music in a way that is quite unique in the Finnish early music scene. The combination of baroque and folk music is nothing new, of course, and the field is generally quite open-minded, but the distinctive soundscape on Gamut!'s debut album is something much, much more." … "Instead of the field of classical music, the album cleverly positions itself in a middle ground between categories, expanding it into a beautifully open space."

Auli Särkiö-Pitkänen / Rondo (01.01.2021)
Ensemble Gamut!
Aino Peltomaa – voice, medieval harp, percussion, electronics
Ilkka Heinonen – jouhikko (bowed lyre), vocals, percussion, electronics
Juho Myllylä – blockflutes, vocals, electronics
"UT is one of the most interesting sounding albums I've heard in a long time, and it's wonderful to hear "obsolete" instruments used to such great effect."
Jon Davis / Exposé Online (02.01.2021)
"The mix of traditional sounds with ancient dance and devotional music, delivered with such love and attention to detail, is a heady brew. Refreshing, soothing, intriguing and enlightening, there's a wonderful flow through the album in an enthralling and cleansing journey."
Jez Rowden / The Progressive Aspect (13.12.2020)
"The combination is rich and works well. — A pleasant feeling of space has been created in post-production. The mood ranges from meditative to raucous. — Many of the tracks are as catchy as any pop tune."
Riikka Hiltunen / FMQ (05.02.2021)